Andrew Taylor Still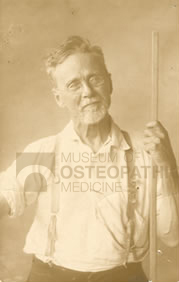 Dr. Andrew Taylor Still, M.D., D.O.
Donor: Museum Collection [2000.34.05]
The Father of Osteopathic Medicine

Andrew Taylor Still was born on August 6, 1828, in a log cabin in Lee County, Virginia. The third of nine children born to Abram and Martha Still, young Andrew led a typical frontier boy's life, with plenty of hard work and intermittent schooling. His father was a Methodist circuit-riding preacher and a physician, whose work led the family to move several times between 1834 and 1841, to circuits in Tennessee and Missouri. Finally, in 1851, Abram was assigned to head up the Wakarusa Shawnee Mission in Kansas. At least part of the reason he received this assignment was to get him out of Missouri, a pro-slavery state where his strong anti-slavery sermons were getting an increasingly hostile reception.
Andrew Still, by then married with two young children, followed his parents to Kansas in 1853. It was about this time that he decided to become a physician. It was common practice in those days for a would-be doctor to train by studying medical books and working with a practicing physician -- in this case, his father. He may have received additional, formal training at a school in Kansas City, but no records remain to establish where and when this training took place.
At first, Still had a typical frontier medical practice, sometimes traveling great distances to reach the bedsides of his patients. Once there, he employed the usual methods of the time, outlined in the medical books owned by him: bleeding, blistering, purging, and so on.
This video requires Flash player
During the same period, Still became deeply embroiled in the fight over whether Kansas would be admitted to the Union as a slave state or a free state. The Kansas-Nebraska Act of 1854 provided that the settlers in those two territories would decide the question for themselves. For more than four years, civil war raged in Kansas as both sides tried to gain control of the territorial government. Several of the Still brothers, including Andrew, took up arms in the cause. Andrew Still found himself in continual danger as he traveled the countryside tending his patients.
In October 1857, Still was elected to represent Douglas County in the territorial legislature. By August 1858, a free-state constitution had been passed. Kansas was admitted to the Union as a free state on January 29, 1861.
After the Civil War broke out in 1861, Andrew Still enlisted, serving as a hospital steward in the 9th Kansas Cavalry, a captain in the 18th Kansas Militia, and a major in the 21st Kansas Militia. In October 1864, Still's outfit saw action near Kansas City, helping to repel the Confederate forces advancing on the city and pursuing the army of General Sterling Price for more than 90 miles. Soon thereafter, Still received orders to disband the regiment and go home.
Back at home, Still faced a grave personal crisis. Earlier that year, an epidemic of spinal meningitis had swept through the area and killed three of his children. He had already lost his first wife, Mary Vaughan, to childbirth complications; a month after the epidemic, the daughter born to his second wife, Mary Elvira Turner, died of pneumonia. His inability to save his family, coupled with his grim experiences as a Civil War doctor, led Still to reject most of what he had learned about medicine and search for new and better methods.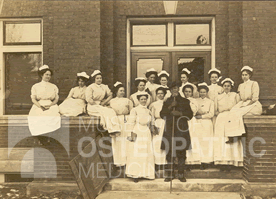 Dr. A.T. Still with Nursing Students, ca. 1909
Donor: Charles Oliver [PH 894]
Still's explorations were grounded in the study of anatomy. Having grown up as a hunter and farmer, he already had a basic understanding of the structural relationships of bones, muscles, and organs, knowledge which he now extended through the study of human skeletons. He became convinced that most diseases could be alleviated or cured without drugs. The key was to find and correct anatomical deviations that interfered with the free flow of blood and "nerve force" in the body.
It is impossible to say exactly what influences Still drew on as he shaped his new system of healing. He was a well-read man, deeply interested in the social and intellectual developments of his time, which undoubtedly helped shape his philosophy. His religious beliefs also affected his thinking about health and the human body. Furthermore, there is evidence that Still knew about a number of alternative medical theories then in circulation -- magnetic healing, bonesetting, Grahamism, hydropathy, homeopathy, and eclecticism -- and that in his search for a new way of healing, he investigated several of these systems for himself. Most he rejected outright. From others, he retained and adapted -- consciously or unconsciously -- those elements which seemed to have some validity.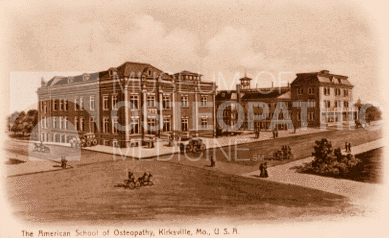 ASO Hospital, 1906
Donor: Dr. I.M. Korr [PH 930]
From the beginning, Still met with considerable opposition to his new theories and techniques. The local church denounced his claims of hands-on healing as sacrilegious. His brothers were embarrassed by his outspoken questioning of medical tradition; they criticized his willingness to risk his livelihood by driving away patients and to neglect his family and farm in pursuit of his "crazy" ideas. When Still asked to present his ideas at Baker University, which his family had helped to establish in the 1850s, school officials refused him permission. In 1874, Still decided to leave Kansas and return to Macon, Missouri, where he hoped his ideas would be better received. They were not, and after a few months of trying, Still moved north to Kirksville. There he finally began to find some acceptance, enough to open an office on the town square in March 1875. Advertising himself as a magnetic healer and a "lightning bonesetter" and traveling to towns as far away as Hannibal, Still slowly built up his reputation. Word spread about the doctor whose system of drugless, manipulative medicine -- officially named "osteopathy" in 1885 -- was able to cure many apparently hopeless cases.
Finding he had more patients than he could handle, Still trained his children and a few others to assist him in his practice. Finally, there were enough people who wanted to learn his methods that he was persuaded to start a school. The American School of Osteopathy (ASO) was founded in Kirksville in 1892, in a two-room frame building. The first class of five women and 16 men -- including three of Still's children and one of his brother's - graduated in 1894.*
The school became a huge success. In August 1894, work was begun on a new infirmary building, which opened in January 1895. By 1897, it was necessary to add two wings that more than tripled the size of the original building. More than 30,000 osteopathic treatments were given at the infirmary in 1895. It was estimated that on any given day, there were more than 400 people who had come to Kirksville to be treated. The Wabash Railroad increased to four the number of daily passenger trains to Kirksville.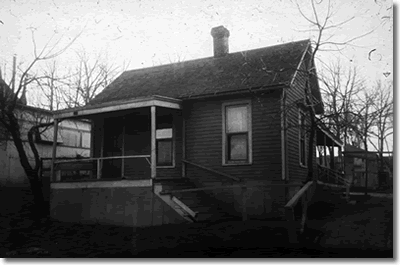 The First School of Osteopathy, 1892
Donor: Dr. Robert Starks, Jr. [2000.01.13]
With his medical school and practice firmly established, Still returned to one of his other great loves: mechanical inventions. He had always been interested in machines; faced with a mechanical problem, his solution had always been to come up with a better approach. In the 1870s, he had patented an improved butter churn; in the years since, he had come up with a number of other inventions. Some were related to the practice of osteopathy, such as the patient brace, a simple device designed to keep patients from falling off the narrow treatment table during vigorous manipulations. In about 1904, Still began work on several inventions. In 1910, he patented a smokeless furnace burner but had some trouble producing a full-sized working model. Heartbroken from Mary Elvira's death in May 1910, he did not have the will to pursue the matter further, and the invention was never successfully marketed.
Still remained active in the ASO almost until his death at the age of 89, though greatly weakened by a stroke in 1914. When he died on December 12, 1917, the beloved "Old Doctor" was mourned by the students at the ASO and the more than 3000 members of the healing profession that he had conceived more than 50 years before. Cheryl Gracey, Former Curator of the Museum of Osteopathic Medicine and National Center for Osteopathic History (now know as the Museum of Osteopathic Medicine, SM and International Center for Osteopathic History)
---
Suggested Reading
Gevitz, Norman. The D.O.'s: Osteopathic Medicine in America. Baltimore, MD: Johns Hopkins University Press, 1982.

Hildreth, Arthur G. The Lengthening Shadow of Andrew Taylor Still (2nd edition). Macon, MO: Mrs. A. G. Hildreth and Mrs. A. E. Van Vleck, 1942. Reprinted by Osteopathic Enterprises, Inc., Kirksville, MO.
Stark, Jane, DOMP (Canada) Still's Fascia. Jolandos, 2007 www.osteolib.com

Still, Andrew Taylor. Autobiography of Andrew T. Still, with a History of the Discovery and Development of the Science of Osteopathy [revised edition]. Kirksville, MO: Author, 1908; reprinted by the American Academy of Osteopathy, 1994.

Still, Charles E., Jr. Frontier Doctor, Medical Pioneer: The Life and Times of A.T. Still and his Family. Kirksville, MO: Thomas Jefferson University Press, 1991.

Trowbridge, Carol. Andrew Taylor Still, 1828-1917. Kirksville, MO: Thomas Jefferson University Press, 1991.

Walter, Georgia Warner. The First School of Osteopathic Medicine. Kirksville, MO: Thomas Jefferson University Press, 1992.

Walter, Georgia Warner. Osteopathic Medicine: Past and Present. Kirksville, MO: Kirksville College of Osteopathic Medicine, 1993.

---
Note *
The number of students in the first class varies, depending on how and when they are counted. In the first year or two of the school's existence, students were admitted at A.T. Still's discretion and graduated when he felt they were ready. The numbers used here are from one of two known pictures of the class that convened in the fall of 1892.