ASDOH Alumni Chapter : Events : Support ATSU-ASDOH
Arizona School of Dentistry & Oral Health (ASDOH) Alumni Chapter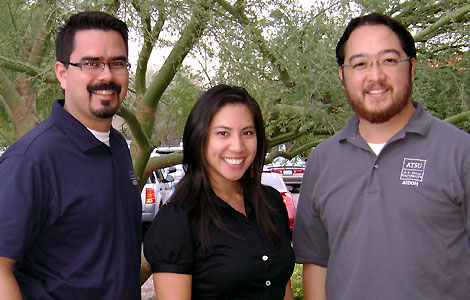 Pictured left to right, Dr. Isaac Navarro, Dr. Charmaine Ng, and Dr. Timothy Oh.
Officers
2012-2013

Chair: Timothy W. Oh, DMD, '08
Ellsworth, ME
Lisa Anderson, DMD, '08
Phoenix, AZ
Isaac R. Navarro, DMD, '08
Visalia, CA
Charmaine Ng, DMD, '09
Chico, CA
Marisela Bedoya, DMD, '07
Tucson, AZ
Michele Pindyck, DMD, '11
Mesa, AZ
David Hoffman, DMD, '09
Mesa, AZ
Past Chair: DezBaa A. Damon, DMD, '07
Ganado, AZ
Mission Statement
The mission of the ASDOH Alumni Chapter is to support ASDOH and A.T. Still University (ATSU) and to encourage beneficial relationships with ASDOH, ATSU, and its alumni.
Purpose
The ASDOH Alumni Chapter provides opportunities for networking and collaboration for ASDOH alumni and develops programs and events to support ATSU, including: Financial Support, Recruitment Support, Activity Support, and Volunteer Efforts.
The ASDOH Alumni Chapter will serve as the voice of alumni as it reports on activities and initiatives to the ATSU Alumni Association.
Membership
Membership in this Chapter consists of all graduates of ASDOH and other persons who meet the requirements as prescribed by the Bylaws of the ATSU Alumni Association and the ASDOH Alumni Chapter. Each graduate is awarded membership in the ATSU Alumni Association and the ASDOH Alumni Chapter. This is a lifetime membership.
Meetings
Each year, the ASDOH Alumni Chapter Board has two meetings - one at the ADA annual meeting in October and one following Give Kids A Smile in February. The ATSU Alumni Relations Office provides administrative support for all meetings.
If you have any questions or need other additional information, please contact Alumni Relations at alumniaz@atsu.edu.