Mission : Goals : Leadership Team : Community-based Education Model : Accreditation : Identified Need
Leadership Team
Jack Dillenberg, DDS, MPH
Dean


Dr. Jack Dillenberg is the inaugural dean of the Arizona School of Dentistry & Oral Health. Dr. Dillenberg received his master's degree in public health from Harvard School of Public Health and completed his dental education at New York University, College of Dentistry. He received his undergraduate degree from Tulane University in New Orleans. Prior to joining the Arizona dental school, Dr. Dillenberg was associate director for public health programs in the California Department of Health Services and prior to that was area health officer serving the west area of the Los Angeles County Department of Health Services. Dr. Dillenberg also is president of Dillenberg & Friends Health Services Consulting providing a full scope of health services consulting. During most of the 1990s, Dr. Dillenberg served in several capacities in the Arizona Department of Health Services, including director for more than four years and assistant director in the Division of Family Health Services. Dr. Dillenberg has also served in numerous positions on health-related boards and associations and is the recipient of a great number of honors and awards, including the U.S Public Health Service Chief Dental Officer's Service Award and the Harvard School of Public Health Alumni Award of Merit. Dr. Dillenberg is recognized at the local, state, and national levels as an expert in the area of public health leadership, health program development, social marketing, oral health issues, health center design, training of community health workers, community organizing, and lecture presentations.
Vacant
Executive Dean

Wayne W. Cottam, DMD, MS


Associate Dean of Community Partnerships
Dean's 2020 Council
Dr. Wayne Cottam is the Associate Dean of Community Partnerships at the Arizona School of Dentistry & Oral Health. In this position, he developed and oversees the external rotation program for ASDOH as well as other student community activities and partnerships, teaches Head and Neck Anatomy and serves on the senior administrative team of the school. Prior to his current position, he was the Dental Director with Community Health Centers in Salt Lake City, Utah. Dr. Cottam graduated from the University of Utah in 1990 and attended dental school at the Oregon Health Sciences University, graduating with honors in 1993. He completed an Advanced Education in General Dentistry program at the University of Utah Hospital and went into an associateship in private practice for one year. In 1995, he re-opened an Urban Indian Dental clinic and ran that program until joining Community Health Centers developing that program from one clinic to four clinics. During that time he received a Master's Degree in Anatomy from the University of Utah Medical School and served on the faculty in the Gross Anatomy course until taking the position in Arizona. Dr. Cottam and his wife Marie have three daughters and one son.
Tony Hashemian, DDS
Associate Dean, Global Oral Health
Herb Kaufman, DDS


Associate Dean, Clinic Operations
Dr. Herb Kaufman is the Associate Dean of Clinic Operations at A.T. Still University, Arizona School of Dentistry & Oral Health (ASDOH). He received his DDS degree from University of the Pacific School of Dentistry in 1976, following his undergraduate studies at UCLA. Upon graduation from dental school, Dr. Kaufman served in the United States Airforce as a general Dental officer achieving the rank of Captain and later Major in the Reserves. Dr Kaufman developed several private practices and later integrated his practice into CIGNA's HMO, with clinical focus on patients suffering with chronic pain and TMD. Dr. Kaufman was appointed Dental Department Chair and Dental Director for CIGNA. Progressing from local to National Director roles, Dr. Kaufman is recognized as an expert in dental clinical management, dental government programs, dental insurance compensation and dental organizational development. Dr. Kaufman is a member of AADC (American Association of Dental Consultants), ADA, AZDA, and ADEA. Dr Kaufman has been part of the ASDOH leadership team since August of 2007.
Klud Razoky, BDS
Associate Dean, Pre-clinical Education & Operations
Maureen Perry, DDS, MPA


Associate Dean, Post Graduate Education &
Director of the Advanced Care Clinic and Special Care
Dr. Maureen Perry is an Associate Professor and Director of Special Care Dentistry at A.T. Still University, Arizona School of Dentistry & Oral Health (ASDOH). She received her BS from Adelphi University and her DDS from New York University College of Dentistry. Following a general practice residency at Staten Island University Hospital, Dr. Perry completed a two-year New York State Consortium of Medical Education in Developmental Disabilities Fellowship in Special Care Dentistry. She received her Masters in Public Administration with a concentration in healthcare administration from Long Island University. In 1995 Dr. Perry was named Assistant Director, Special Care Dentistry & Assistant Professor, Department of Dentistry & Department of Pediatrics at the Rose F. Kennedy Center, Children's Evaluation & Rehabilitation Center, Albert Einstein College of Medicine of Yeshiva University. She was named Director, Special Care Dentistry in 2003 and promoted to Associate Professor, Department of Dentistry in 2006. Dr. Perry is a fellow of the Academy of Dentistry for Persons with Disabilities and is a diplomate of the American Board of Special Care Dentistry. In addition, she serves on both boards. Dr. Perry received a New York State Office of Mental Retardation & Developmental Disabilities Certificate of Achievement in 1994 and a New York State Office of Mental Retardation & Developmental Disabilities Distinguished Service Award in 2006. Dr. Perry has presented at many national meetings and has published on such areas of special care dentistry as autism, restraint and consent, rare syndromes, pre-doctoral education and self-injurious behavior. Her current research focus is on oral health-related quality of life in people with developmental disabilities.
Janet Woldt, MS, PhD


Associate Dean, Academic Assessment
Dr. Janet Woldt is the Associate Dean for Academic Assessment at A.T. Still University Arizona School of Dentistry & Oral Health in Mesa, Arizona. In this position, Dr. Woldt ensures the academic success of the predoctoral and postdoctoral students, manages the accreditation process, directs the assessment efforts of the School, and serves as the School's student services liaison. Dr. Woldt received her undergraduate degrees from Indiana University (1986), Northwestern University (1990) and her graduate degrees from Iowa State University (masters 2001, doctorate 2004). From 1986-1990, she practiced as a clinical dental hygienist in Northwest Indiana. Dr. Woldt also served as a didactic and clinical instructor at Indiana University from 1988-1990. From 1990-1993 she served as the Examination Coordinator of the Academy of General Dentistry. Dr. Woldt worked for the Commission on Dental Accreditation as Manager of Dental Hygiene Education, 1993-1999. In her tenure with the Commission, she managed the revision of the Accreditation Standards for Dental Hygiene Education, provided guidance to the dental education community regarding accreditation, and formulated and implemented policies related to dental education, utilization and licensure. While conducting her graduate studies at Iowa State, Dr. Woldt developed and implemented faculty enrichment programs for both new community college instructors, and masters and doctorate programs for experienced instructors. She worked in the Vice Provost for Undergraduate Programs office at Iowa State as well. Dr. Woldt and her husband Phil live in Phoenix with their daughter, Katarina.
Vacant
Associate Dean, Education and Student Success

George Blue Spruce Jr. , DDS, MPH


Assistant Dean, American Indian Affairs
Dr. George Blue Spruce, the nation's first American Indian dentist, is the former assistant surgeon general and director of the Indian Health Service Phoenix Area Office. In 1990, he was instrumental in the organization of the Society of American Indian Dentists and has been its president for the past 16 years. This position has allowed Dr. Blue Spruce to continue his life's work in the encouragement of American Indian individuals to pursue a career in dentistry and other health professions. He holds membership in numerous American Indian organizations, with missions that promote post-secondary education. Dr. Blue Spruce, a member of the San Juan-Laguna Pueblos of New Mexico, firmly believes in true self-determination for Indian people. He says, "True Indian self-determination will occur only when our American Indian people are given opportunities to pursue those educational credentials that allow them to assume meaningful leadership roles in their respective Indian communities. As leaders, Indians will be able to assess their peoples' needs, prioritize them, and most importantly manage and control their own programs." In his new position, Dr. Blue Spruce hopes to continue addressing the severe dearth of American Indian dentists and other health professionals. Dr. Blue Spruce remains an active tennis competitor and in 1996 was inducted into the American Indian Athletic Hall of Fame. He is the first and only male tennis player to be inducted.
Sabah Kalamchi DDS, FFDRCS


Assistant Dean, Oral and Maxillofacial Surgery
Dr. Sabah Kalamchi is the Director of Oral and Maxillofacial Surgery Department, in addition to the didactic and clinical teaching responsibilities in surgery. Dr. Kalamchi is a member of the Trauma team at Scottsdale Health Care Hospital and St. Joseph's Hospital. He attended Creighton School of Dentistry in Omaha, Nebraska and graduated in 1989. Dr. Kalamchi completed his Oral and MaxilloFacial Surgery Residency Program at Parkland Memorial Hospital. He has been Board Certified by the American Board of Oral and MaxilloFacial surgery and is a Fellow of the American Association of Oral and MaxilloFacial Surgeons. He has lectured nationally and internationally in his field of expertise. He has been published in the United States and International journals on the subject of T.M.J and Facial trauma.
Dr. Jae Hyun Park, DMD, MSD, MS, PhD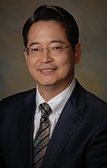 Program Director of the Post-graduate Orthodontic Program
Dr. Jae Hyun Park is the Program Director of the Arizona School of Dentistry & Oral Health's Post Graduate Orthodontic Program and Associate Professor. He is a highly regarded leader in the field of dental education, an outstanding professional with a wealth of practical experience in dental practice and has a strong commitment to clinical education, patient care, and research. Dr. Park received his undergraduate education from Seoul National University where he graduated with honors. He went on to earn his D.M.D., M.S.D., and Ph.D. degrees from the dental school at Kyung Hee University, one of the most prestigious schools in South Korea. He also completed his Master of Public Health studies at the Graduate School of Public Health at Seoul National University. Dr. Park gained "hands-on" experience during his almost 10 years of service as a general dentist and orthodontist in Korea. He has extensive experience as an orthodontist. While maintaining his practice, he also served as an assistant professor at the Graduate School of Dentistry at Kyung Hee University and was recently appointed to conduct research as an international scholar with the school. After moving to the States, Dr. Park earned his Master of Science degree from the Graduate School of Arts and Science at New York University, College of Dentistry (NYUCD). He also completed the Post Graduate Orthodontic Program at NYUCD. While at NYUCD, Dr. Park received the Dean's Award, the Master of Science Resident Research Award, and the Post Graduate Resident Research Award. Some of his research was submitted for a patent by New York University. Dr. Park also worked as an orthodontic teaching fellow and member of the undergraduate clinical orthodontic faculty at NYUCD. He represented the school at the 2006 American Association of Orthodontists (AAO) annual session where he competed against 47 other orthodontic representatives, winning 1st place in the Orthodontic Resident Scholars Program. Dr. Park has published numerous scientific and clinical articles. He has been recognized by Marquis Who's Who, American Biographical Institute (ABI), and the International Biographical Center (IBC) of Cambridge.