About the Missouri School of Dentistry & Oral Health at ATSU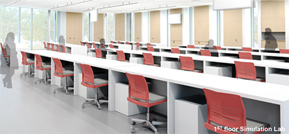 ATSU's Missouri School of Dentistry & Oral Health (MOSDOH) is modeled on the University's highly acclaimed Arizona School of Dentistry & Oral Health, Arizona's first dental school. Launched in 2003, its goal is to graduate dentists who have an in-depth understanding of and a desire to serve populations in need. Field experience in community health settings across the country are an integral part of the curriculum.
MOSDOH anticipates opening in fall 2013 with a class of 40 students.
The University expects the school to be approved by the Commission on Dental Accreditation in 2013.
Inaugural Dean: RADM (ret.) Christopher G. Halliday, DDS, MPH, former assistant surgeon general of the United States.
A March 15, 2012, groundbreaking ceremony kicked off construction of the two-floor, 61,000-square-foot facility, designed by Cannon Design, an architectural firm based in St. Louis. The structure will house both the new dental school and laboratory space for students attending ATSU's Kirksville College of Osteopathic Medicine, located on the same campus.