Orthodontics
Request Information Contact a Representative Apply Now Request a Tour
Orthodontics home : Director's Message : Curriculum : Faculty & Staff : Residents : Admission Requirements : Tuition and Expenses : Financial Assistance : Accreditation : Gainful Employment Disclosure : Services for Patients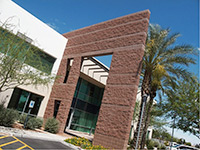 ASDOH's Postgraduate Orthodontic program is a 30-month program leading to a certificate in orthodontics and dentofacial orthopedics with an optional Doctor of Health Education degree (DHEd). The program provides a rich clinically-focused education where students are exposed to the most current techniques and practices in the field.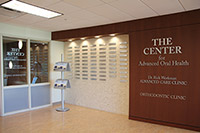 State-of-the-art equipment at The Center for Advanced Oral Health includes
Digital orthodontic models
Temporary anchorage devices (TADs)
Intraoral digital scanner
Digital orthodontic systems
Soft-tissue lasers
Lingual braces
Program details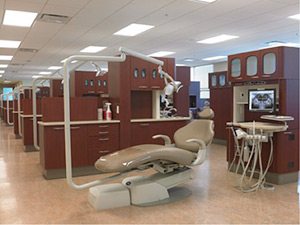 Approximately 60 percent of residents' time is devoted to clinical treatment, 20 percent to seminars and small-group classes, and the remainder to independent research and teaching. The program also provides orthodontic care for the Society of Saint Vincent De Paul as a service to the community.
Patient care begins within the first week of the program and culminates with comprehensive case examinations at the end of the final year. Being part of The Center for Advance Oral Health and in close cooperation with the Advanced Education in General Dentistry program provides residents the opportunity for interdisciplinary seminars and treatment of complex cases.
Residents will
Attend monthly surgical seminars with Banner Good Samaritan OMFS residents.
Attend the Tweed Study Course.
Attend professional conferences.
Complete rotations in TMD as well as craniofacial rehabilitation, and
Complete a capstone research project in the field of orthodontics that will be suitable for publication in a major orthodontic journal.
The residents are also exposed to the Suresmile technique being taught by a faculty member who is a Suresmile teacher.
American Board of Orthodontics preparation
Residents will take the American Board of Orthodontics (ABO) examination prior to graduation and are strongly encouraged to complete the clinical examination and become board certified by graduation. To aid with ABO certification, residents will begin treatment on 10 board eligible cases within the first month of residency and will be expected to start an additional 50 cases in the first six months. In total, residents can expect to start approximately 70-80 cases, plus an additional 20-30 transfers during their 30-month residency.
News
ASDOH's postgraduate orthodontic Class of 2014 becomes board certified