Still OneSearch
Clinical Search
PubMed
Welcome to Our New Web Site and Search Tool!
Still OneSearch has been launched! We are excited to offer this new search tool that searches our eBook, eJournals, databases and library catalogs. Remember to choose your affiliated campus before you search and a special TUTORIAL is available on the special version of Check-It-Out@ATSMLib here.
Newsletter
View the latest December 2014 edition of our newsletter, Check-It-Out@ATSMLib, here.
The American Ostepathic Assocation Ebola Page.
CDC Ebola Information Page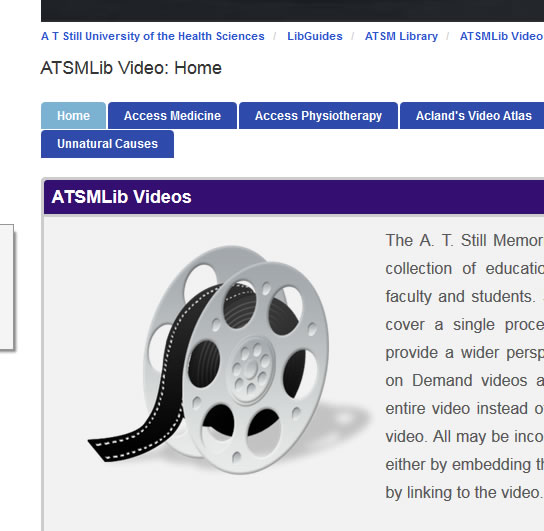 The library has added several new video resources in the past year. To help organize them, we have created a new video resources library guide here.
If you have any questions of how to embed these into your blackboard or power point courses, please contact us.
New Resources Added in Summer 2014
This collection contains Foundations of Osteopathic Medicine, Atlas of Osteopathic Techniques, Greenman's Principles of Manual Medicine, An Osteopathic Approach to Diagnosis and Treatment, The Pocket Manual of OMT, Somatic Dysfunction in Osteopathic Family Medicine and The 5-Minute Osteopathic Manipulative Medicine Consult

The

LWW Health Library Basic Sciences Collection

provides online access to titles such as Bates' Guide to Physical Examination and History Taking, Moore's Clinically Oriented Anatomy, Grant's Atlas of Anatomy, Grant's Dissector, Langman's Medical Embryology, Pulmonary Pathophysiology: The Essentials and many more. The books are accompanied by case descriptions, procedure videos, images, and lecture resources for study preparation.

The Bates Visual Guide is a teaching resource consisting of 18 anatomy and system specific videotapes. Each video shows a step by step examination. What is unique is how well they represent a broad spectrum of ages and cultural backgrounds for both patients and clinicians. This 4th edition includes new information on health history, documentation, communication, and, patient/practitioner interactions.
PsycTESTS® is a research database that provides access to psychological tests, measures, scales, surveys, and other assessments as well as descriptive information about the test and its development and administration. It replaces Mental Measurements in the library's collections.
AccessPhysiotherapy

AccessPhysiotherapy contains 20 leading PT textbooks including Dutton's Orthopaedic Examination and Therapeutic Modalities in Rehabilitation, more than 500 videos of rehabilitation techniques, interactive self-assessment questions for the NPTE exam, Anatomy & Physiology Revealed. This can be accessed here.
Chronicle of Higher Education E-Access added.
The Chronical of Higher Education has been added to the library's e-resources. The link to the Chronicle of Higher Education is here. A reverse chronicle listing of the most recent articles for the journal in Still OneSearch can be found here.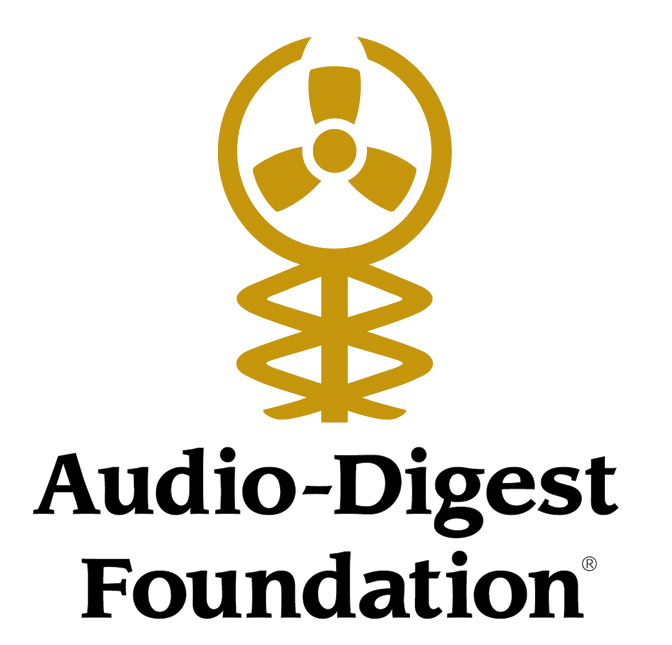 Audio-Digest podcasts now available
The library now subscribes to Audio-Digest podcasts for the following specialty areas - Anesthesiology, Emergency Medicine, Family Practice, Gastroenterology, General Surgery, Internal Medicine, Neurology, Obstetrics/Gynecology, Orthopaedics, Pediatrics, Psychiatry, Psychology.

They provide monthly or bimonthly updates from the latest research in audio format that can be downloaded to your iPod. Access instructions can be found on our library podcast page here.
Clinical Key Added to the Clinical Faculty/Preceptor Page Resources
The clinician's access and use of the best available evidence is a core component of quality care. A.T. Still Memorial Library now offers ATSU's clinical faculty and preceptors the following resources and services via its Clinical Faculty Library web page on the ATSU portal (my.atsu.edu) to support that goal in the mentoring of our students.
We are happy to announce that ClinicalKey, including 900 eJournals and hundreds of medical reference books, FirstConsult, a Drug reference database and ProceduresClonsult is now available to Clinical Faculty.Preceptors.
For more info on this service contact Hal Bright (hbright@atsu.edu)



A New Point of Care Drug Resource
Micromedex includes all the unbiased, referenced information about drugs, toxicology, diseases, acute care, and alternative medicine you need to make informed clinical diagnosis and treatment decisions.
Our subscription include Drug Interactions, Trissel's IV Compatibility, Tox & Drug Product Lookup and RED BOOK Online plus a patient drug guide called CareNotes.

Renew Your UpToDate
app every 30 days
Use UpToDate from the library's home page (signed in with your personal UpToDate account) at least once every 30 days for automatic verification of your affiliation with ATSU. In-application & email messages will remind you to log into UpToDate from the library, if you haven't done so in 30 days. You must log-in every 30 days to maintain access to the UpToDate app.
If you are an ATSU Alumni and have any questions or need any assistance please contact the

ATSMLib

Arizona at 480-219-6090 (libaz@atsu.edu) or the

ATSMLib

Kirksville at 660-626-2336 (jsidwell@atsu.edu).