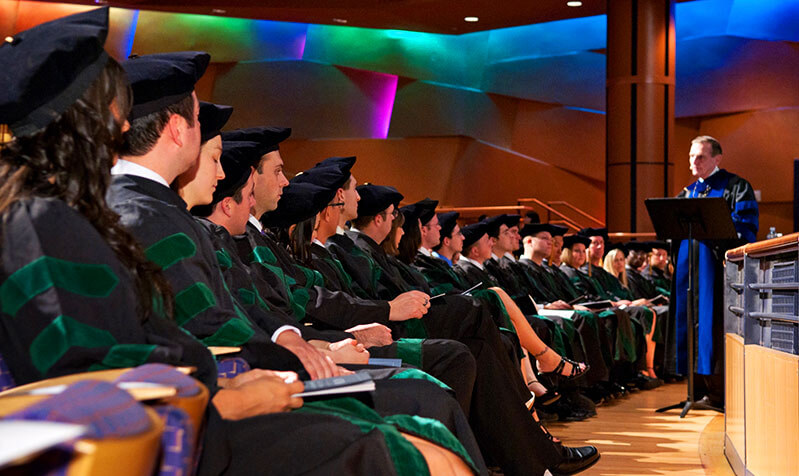 SOMA COMMENCEMENT
Required Pre-Commencement Orientation
Thursday, May 25, 2017
A.T. Still University - Arizona
Pre-commencement orientation schedule (pdf)
Pre-Commencement Activities/Celebrations
Innovators' Gala

For additional information about the required SOMA pre-commencement activities/celebrations please contact Angela Vincent, executive assistant to the dean.
Commencement Ceremony
May 26, 2017 at 10:00 a.m.
Ikeda Theater,
Mesa Arts Center

The following is a check-list to help ensure you will complete all requirements to participate in
your ceremony:
Graduation RSVP
Gown and Tam/Tassel
Announcements
Guest Hooder (Optional)
Tickets
Photos
Diplomas
Graduation RSVP
All students of A.T. Still University are required to RSVP to their commencement ceremony at least 30 days before their scheduled ceremony:
NOTE: you will be permitted to submit one RSVP; if you receive a message that you cannot complete the form then you have completed this requirement.
Gown and Tassel/Tam
Graduates are responsible for purchasing their own gown and tassel [Masters]/ tam [Doctorate] for their commencement ceremony.

Oak Hall is the preferred vendor for ATSU commencement regalia.
Order gown and tassle/tam through Oak Hall's online ordering system.
ATSU - Arizona does not have an on-campus bookstore or venue to purchase so please ensure you order from Oak Hall early to avoid additional shipping costs.
The Department of Student Affairs will purchase Master/Doctoral hoods for each graduate; these hoods will be provided during the Hooding Ceremony.
Ceremony Announcements
CB Announcements/ Balfour is the preferred vendor for ATSU commencement announcements. To order from CB Announcements/ Balfour, please complete the following steps:
Select Your State: Arizona
Select Your School: A.T. Still University
Ceremony Month: May
Click on "Get Started" and continue through the process
Hooder Information
Each graduate will be hooded by a member of her/his faculty at the Dean's discretion; if a Graduate has an individual she/he wants to hood them they may request that option.

Individuals meeting the following criteria may apply to be a guest hooder during the commencement ceremony:

Guest Hooder must hold a terminal degree [i.e.: DMD, DDS, DO, MD, Ph.D., Ed.D, Au.D., C.P.A., etc.) or equivalency of the degree being conferred.

Note: members of the A.T. Still University faculty do not qualify as a guest hooder; those requests will need to be approved by your Dean's Office.

Complete the hooder request form. Note: you must access the form via your portal log-in creditials.
Commencement Ticket
Each graduate will be distributed 12 tickets for her/his ceremony. If this number is not sufficient for your needs we strongly encourage soliciting colleagues who will not be utilizing their allotment.

Commencement Photos
Grad Images is the official photographer of ATSU commencement celebrations. Visit Grad Images for ordering instructions.

Please note graduates will not be in the system until after the ceremony when she/he has been photographed.

Diplomas
Diplomas will be ordered after all grades are received at the end of the academic semester/quarter. It will tax approximately 10 to 12 weeks after your ceremony to receive your diploma.

To ensure proper delivery of your diploma contact the Office of the Registrar to make necessary updates. The Office of the Registrar also offers more details on your diploma online.