History of the Department of Microbiology/Immunology at

A. T. Still University of Health Sciences/Kirksville College of Osteopathic Medicine

Departmental faculty members from 1897 to Present*
Click here for former names of the institution. The College's Tuition vs. Annual Yearly Income from 1892-2017.
*The college began in 1892. The 1897 college catalog was the first college catalog that contained a curriculum and mention of faculty members.
| | |
| --- | --- |
| 1892- First school building | Campus in 1990's |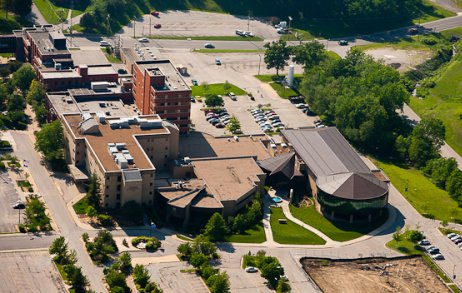 KCOM Main Campus 2012
Image courtesy Kelly Rogers
| | |
| --- | --- |
| Images courtesy Kelly Rogers | |
Former Names of the Institution that Started Osteopathic Medicine
American School of Osteopathy (ASO; 1892-1925)
Kirksville Osteopathic College (KOC; 1925-1926)
Kirksville College of Osteopathy and Surgery (KCOS; 1926-1971)
Kirksville College of Osteopathic Medicine (KCOM; 1971-2003)
A. T. Still University of Health Sciences/KCOM (ATSU/KCOM; 2002-?)
Copyright 2004; Neal R. Chamberlain. All rights reserved.
Webpages created 2004; Site Last Revised 8/2/18
Neal R. Chamberlain, PhD. A. T. Still University of Health Sciences/Kirksville College of Osteopathic Medicine.
Site maintained by: Neal R. Chamberlain PhD.: nchamberlain@atsu.edu