About Dan Martin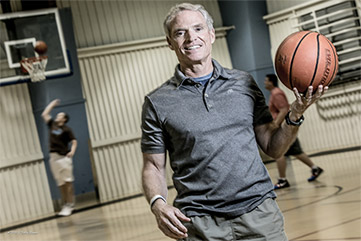 Dan Martin has served as the Morris Thompson Campus Center (TCC) director of ATSU's wellness programs since the facility opened on the Kirksville, Missouri campus in 1982. He has been instrumental in implementing a wide-range of health and fitness regimens. He continues to provide direction for all operations and programing on both the Kirksville, Missouri and Mesa, Arizona campuses. His passion for achieving emotional and physical fitness not only promotes ATSU's mission of providing whole person and community healthcare, but has also inspired thousands of students, faculty, staff, and community members to embrace positive lifestyle choices.
As a result of Dan's influence, the TCC is not only the recreation center for ATSU's Kirksville campus, it is also an important learning center for the University. While students, faculty, and staff are visiting the TCC to participate in activities such as basketball, indoor soccer, pilates, yoga, kickboxing, or circuit weight training, they are also immersed in an environment designed to teach and maximize their potential in body, mind, and spirit.
Dan has dedicated over 30 years of exemplary service to bettering ATSU, which is why the University is excited to honor him by naming the new basketball court "Dan Martin Court."
The Morris Thompson
Campus Center Renovations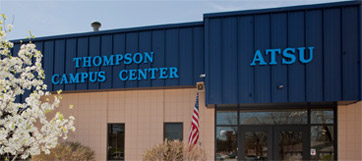 In 32 years, the TCC's annual membership has nearly doubled with thousands of individuals being encouraged to make positive and lasting lifestyle choices. To further promote the TCC's mission and attract promising students who value their own health and fitness, ATSU has announced plans to renovate several areas of the TCC with the gymnasium serving as the centerpiece of the project. This renovation presents an opportunity to upgrade the facility while recognizing Dan's exceptional commitment and unique contributions to the TCC, and the University community, in a meaningful way.
To accomplish this vision, ATSU launched a campaign to raise $115,000 to replace the existing gym floor with a maple wood basketball court to be named The Dan Martin Court upon its completion. Another $185,000 must be raised for additional facility improvements making the total fundraising goal for this project $300,000.
The University is asking its distinguished alumni and friends to help make these exciting improvements a reality. Your donation will further the TCC's tradition of providing top-quality fitness facilities and equipment to its members.
Recognition Levels
Those who donate at the following levels will be recognized on a plaque in the Thompson Campus Center:
Platinum: $50,000+
Gold: $25,000-$49,999
Silver: $10,000-$24,999
Pledge commitments may be completed over a five-year period.
Donate now!
Contact Us