Youth Recruitment

The Missouri AHEC informs youth from health care underserved communities and populations about opportunities in health careers, fosters their interest in becoming health care providers, and helps them prepare to enter health professions training. During the 2012-2013* program year, 7,687 students were involved in AHEC programs/activities including school presentations, MASH camps, individual career planning sessions, shadowing, anatomy distance education sessions, etc. Through its well-developed community relationships, MAHEC facilitates academic enrichment, mentoring, leadership development, job shadowing, and other activities that help stduents identify and attain their health-career goals. MAHEC provides opportunities for involvement in service learning and community service projects that, in addition to offering educational benefit, encourage young people to enhance the communities in which they live.
The AHEC Career Enhancement Scholars (ACES) program was developed for students interested in expanded career preparation activities. Since inception of the ACES program in 2001, over 1,900 Missouri high school students have gained valuable knowledge and experience in preparation for a health career. In the 2012-2013 program year, 209 high school and undergraduate students participated in ACES activities.
View Map - Participants in AHEC Health Careers Programs for Youth (by county)
*The most recent year for which complete program data is available
---
ATSU-KCOM AHEC Programs
AHEC Career Enhancement Scholars (ACES)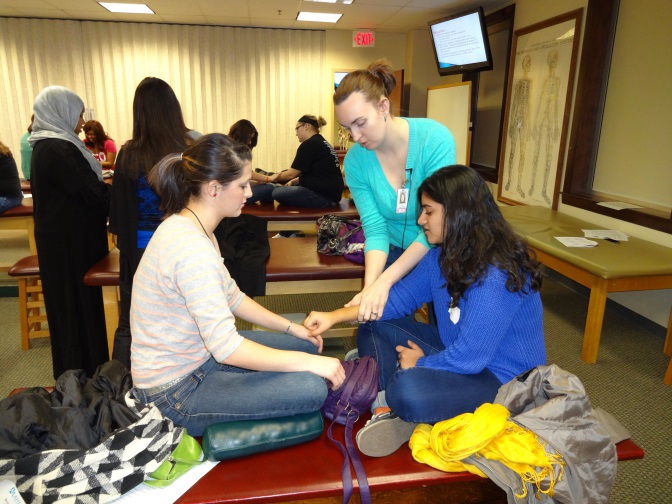 The ACES program was developed in 2001 to provide programming for high school and undergraduate students on a long-term basis, rather than one-time events. ACES program participants are better prepared for entry-level jobs and/or additional health career training as well as enduring partners for a healthy Missouri. Components of this program include: individual career plans, online learning modules aligned with the National Health Skills Standards, workshops with focus on academics and health career preparation, and expectations of job shadowing, volunteering, community service, and leadership projects.
The programming has a multi-year approach with workshops presented over a three-year cycle. Workshop content includes: health literacy, service learning, emergency preparedness, vulnerable populations, public health, cultural competency, and professionalism. Students enjoy dissection workshops and opportunities to visit health professions schools.
The goal is to nurture students' health career interests, provide them with every opportunity to explore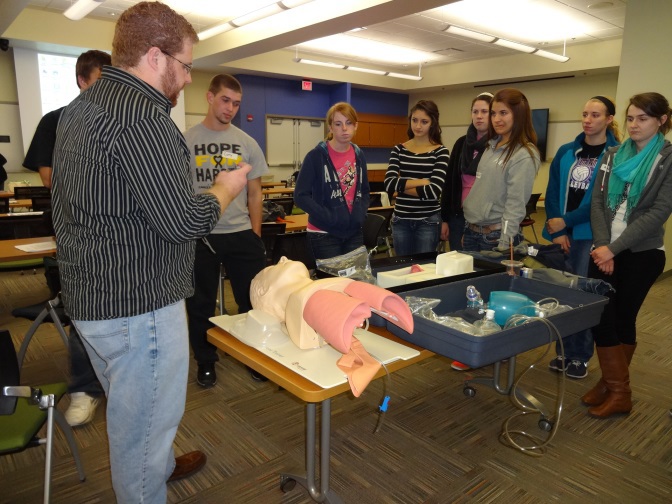 those careers, and prepare them as well as possible to take the next steps on their career paths. AHEC develops relationships with students that will continue into their professional lives when they will mentor and train young pre-health professionals. In addition to building relationships with AHEC staff that can help provide specific opportunities to meet student needs, the program allows students with similar interests to explore these careers together. A student may be the only person in the rural school with an interest in a health career, and this program provides the support he or she needs.
Centers implementing the program:
Medical Explorations in Science and Anatomy (M.E.S.A.)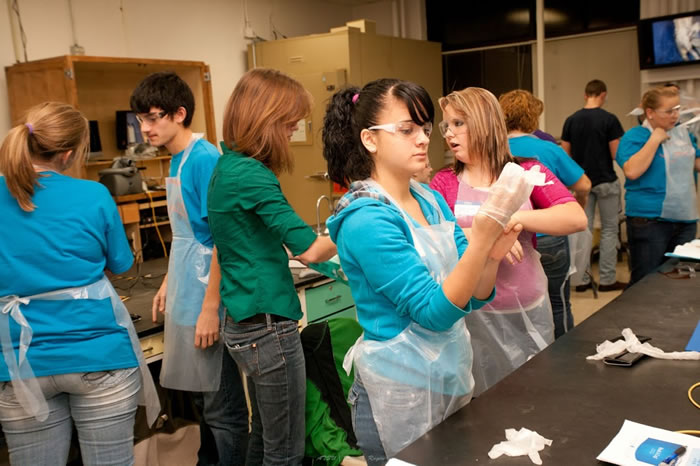 The M.E.S.A. program grew out of one KCOM student's interest in teaching anatomy to high school students. The program began in 2006 with an interactive video presentation from Kirksville, and guided dissection labs in Kirksville and Poplar Bluff. Since then, the program has grown to serve all seven centers via "Google Hangouts on Air."
Each year, a different team of ATSU-KCOM Anatomy Fellow, plan and present the programs with local support of regional AHEC staff.
In addition, health professional students and volunteers at the distant sites assist with dissection, or patient care skills activities related to the topic. The program is specifically for high school students in grades 9-12.
Results of the program:
This program fills a critical gap for a number of rural students, as science courses and hands-on lab resources are limited in some rural schools. Student evaluations are very positive.
Over 150 students per year participate in the 4 guided dissection cases.
Centers implementing the program:
ATSU AHEC Program Office and all centers
Dental and Oral Health Recruitment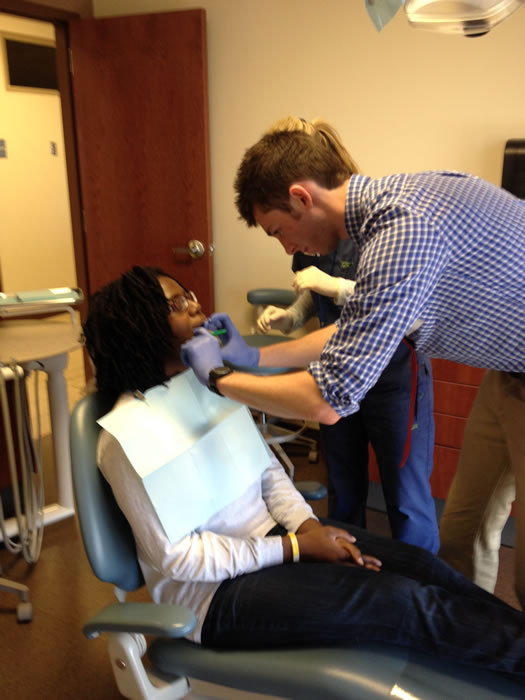 Missouri has a serious shortage of dentists and oral health professionals to provide care:
Missouri was ranked second to last in the percentage of children aged 1-18 receiving any dental service (Pew Children's Dental Campaign, 2008)
Missouri was ranked 47th nationally in the percentage of residents visiting a dentist in a year (62.6%) (Creating a Healthier Missouri: A Statewide Oral Health Plan, 2009).
In response to these needs, A.T. Still University committed to establishing a new dental school - Missouri's second. To prepare for admission of the inaugural class in fall 2013, MOSDOH (Missouri School of Dentistry & Oral Health) contracted with AHEC to raise undergraduate and high school students' awareness of oral health careers and dental education opportunities in Missouri.
Working with the regional AHECs and partner community health center dental clinics, day-long intensive workshops were planned and implemented. Targeted participants were Missouri undergraduate students interested in dental careers and service to the underserved. As the activities evolved, several undergraduate students were engaged to present oral health education sessions for middle school children to improve oral hygiene and alert the children to possibilities of oral health careers.
Results of the program:
In the 2012-2013 program year (the most recent year for which complete data is available),
34 high school students participated in M.E.S.A. head/neck anatomy health sessions
62 students participated in intensive hands-on workshops
6 high school students completed a total of 650.5 hours of shadowing
12 undergraduate pre-dental students prepared and presented oral health/oral health care careers sessions to 733 middle and elementary school students
85 students participated in distance technology-mediated workshops at 5 sites.
Participants offered the following comments in response to the question, "what did you like best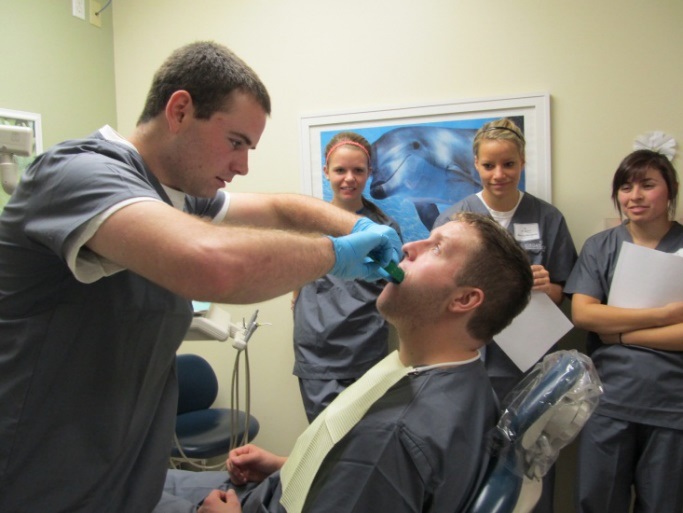 about the dental career prep workshop?"
"Interacting with dental professionals provided valuable experience and confidence that will be helpful throughout my dental schooling."
"Tooth prepping and filling and learning from people in the dental profession. It was really interesting and helpful to have so many people there to answer questions and give their own insight."
"Honestly, I wish there was more time. Even one more hour to add 15 minutes to each section would have been huge."
Centers implementing the program:
ATSU AHEC Program Office and all centers
Working with Undergraduates/Pre-professionals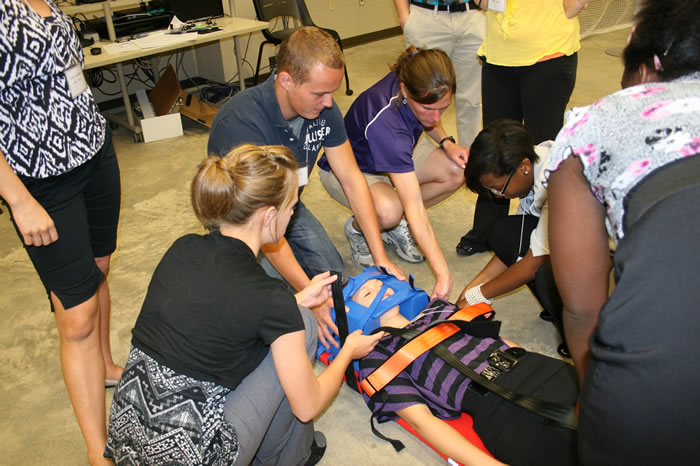 Most of the seven centers work with undergraduate students in formal programs identified as ACES Plus or informally to provide them with mentoring, workshop, job shadowing, connections to community resources, or professional skill building opportunities because they have demonstrated a commitment to healthcare careers in some way to center staff.
East Central Missouri has a formal program of summer internships in the following Washington University School of Medicine Departments: Cardiology, Information Systems, Orthopedic Surgery, Anesthesiology, Internal Medicine, Siteman Cancer Center and Occupational Therapy. East Central students have also completed internships at Crider Health Center and Grace Hill Health Centers in the dental departments.
Other centers work less formally by including undergraduates along with their high school students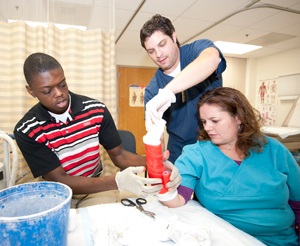 in workshops, professional school visits, and other programming. Often undergraduate students are able to assist at workshops and begin mentoring younger students. Center staff seek out internship opportunities for students when possible. Internships were found for two students in Northwest and West Central this summer. As with the internships at East Central, these internships support the students' pursuit of healthcare careers.
Additional undergraduate programming was provided by ATSU via Google distance communication technology. Undergrad students at multiple sites across Missouri had access to information on application, interviewing, resume building, etc. for application to dental or medical school. At the end of each of the sessions, students were able to ask questions about individual issues related to their situation.
Results of the program:
Pre-dental/health career club members presented oral health programs at middle/elementary schools and reached more than 500 students
In addition, undergraduates presented NEMO's Great Hospital Adventure at elementary schools. These programs reached more than 150 students
85 undergraduate students participated in distance technology-mediated workshops and had direct access to medical and dental school admissions counselors.
Centers implementing the program:
Other MAHEC Programs
HOSA: Future Health Professionals
High School Level HOSA Program

HOSA: Future Health Professionals is a national and state organization that was founded in 1975. The purpose of the organization is to develop leadership and technical skill competencies through a program of motivation, awareness, and recognition, an integral part of the Health Science Education instructional program.
As a HOSA club member, each student builds leadership skills, a better knowledge of health and the human body, learns and practices technical skills, and gets to explore different health profession options.
Today's healthcare system needs dedicated workers who can be leaders and team-players. HOSA can help create successful young professionals. Enrolled students in the high school HOSA clubs attend school club meetings, participate in hands-on activities and regional workshops, and may compete in state and national competitions.
Results of the program:
This program fills a significant gap for many rural students/schools, and allows rural high school students the opportunity to learn valuable skills in health occupations, as well as demonstrate leadership and service potential locally as well as state-wide. Student and adult advisor evaluations are overwhelmingly positive. For more information on this effort, please visit NEMO AHEC's blog: http://nemoahechosa.blogspot.com/
Centers implementing the program:
Middle School Level HOSA Program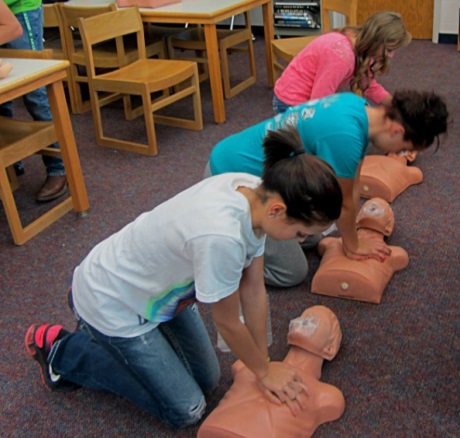 In 2012, the Missouri Foundation for Health funded a three-year pilot program to initiate HOSA programming in ten rural and urban underserved middle schools. Through school-based health careers clubs and community-based summer day camps, middle school youth have the opportunity to explore a myriad of health careers. Interested students will be supported in transitions into high school health services training programs. Capturing the attention of middle school youth and demonstrating the application of classroom learning to future health careers is essential to generate and maintain enthusiasm. Middle schools partnering with Missouri AHEC on this project are: Brookfield Middle School, Central Middle School in St. Louis, Compton-Drew ILC in St. Louis, East Carter County R-2 in Ellsinore, Moberly Middle School, Pilot Grove C-4 Middle School, Puxico Junior High, Rocky Comfort Elementary/Junior High, Rolla Middle School, and South Middle School in Joplin.
Results of the program:
During the first year of implementation, structures and processes have been put in place to collect data and assess program efficacy.
Centers implementing the program:
Missouri AHEC Science & Health (M*A*S*H) Camps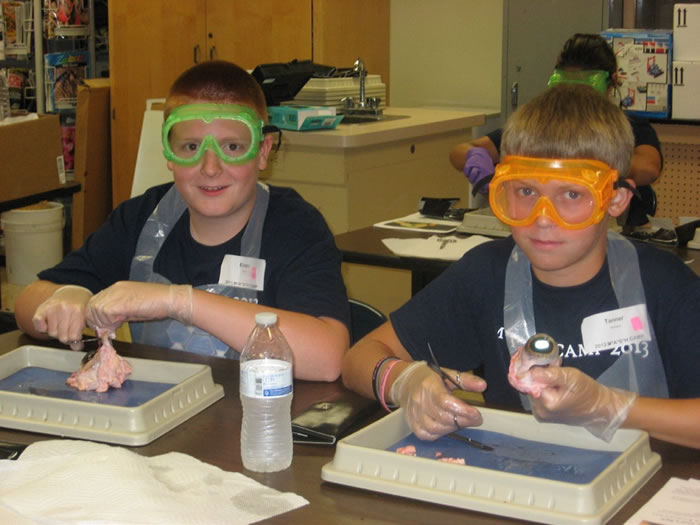 As a mechanism for "growing and supporting" a healthcare workforce, AHECs provide workshops targeted to the middle-school level students (those entering 6th, 7th & 8th grade) and high school students via summer "day-camps." Camps range from 1-5 days in length and focus on:
Exploring the range of health care disciplines through hands-on activities;
Increasing understanding of algebra, biology and chemistry as applicable to a career; and
Positively influencing personal choices as they relate to fitness, nutrition and other health education topics.
Camps are coordinated by regional AHECs and staffed by a host of volunteer instructors and community members. Typical activities include:
Hospital tour
Laboratory science experiment
Radiology/diagnostics activity
Physical & occupational therapy skills
Operating room scrub lab
Operating room suture activity
Emergency medical services tours
Health education & epidemiology activities
Anatomy lab - organ dissection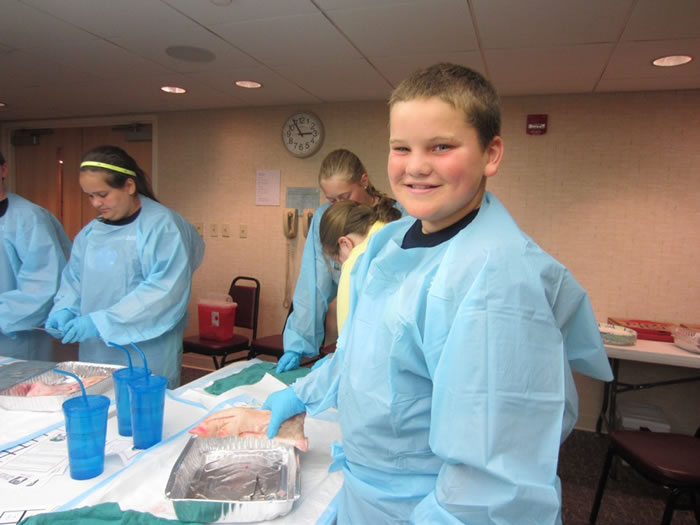 Students are exposed to health professions in a healthcare setting, and are provided safe learning activities that stimulate tasks performed "on the job" by members of the health care team.
Results of the program:
In the 2012-2013 program year, approximately 125 students participated in MASH camps at 7 locations throughout the state. These camps engaged volunteer health-professions students to serve as instructors and to provide hands-on learning activities to these impressionable youth.
Centers implementing the program:
Healthcare Career Clubs (HCC)
ECMO AHEC maintains Health Career Clubs in private and public high schools in the St. Louis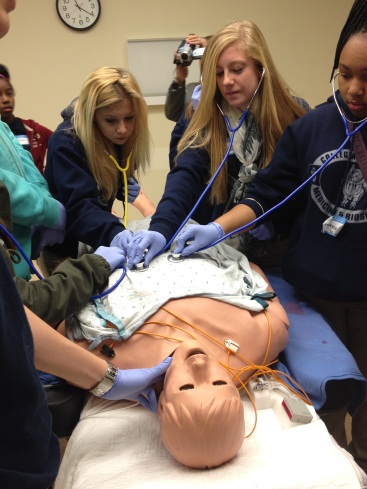 metropolitan area. ECMO AHEC has collaborated with the: Archdioceses of St. Louis, St. Louis Public Schools (SLPS), Ferguson-Florissant School, Hazelwood School District, and the Special School District of St. Louis County. In these schools, there has become a high percentage of matriculation to college and a high percentage of students from disadvantaged backgrounds and diversity. The HCCs hold workshops introducing health careers, once or twice per month, including:
Bringing in health professionals as mentors who served on panels, discussed health topics, and demonstrated medical procedures
Engaging various health professions students and working health professionals who developed and delivered health curriculums and provided professional information pertaining to nutrition, public health and preventable diseases, along with ECMO AHEC staff
Facilitating medical experiences such as medical campus tours, hospital tours, and anatomy and dissection lab experiences and other human anatomy workshops, such as cadavers, etc. at Saint Louis University and Washington University.
This program provides a pre-professional pipeline that increases the numbers of high school and college youth from the St. Louis urban/metropolitan area who are aware of health careers and successfully matriculate to college and health professions training programs.
Results of the program:
97% reported an increase in their knowledge of health careers
105 (84%) declared an intention to pursue a health career
63 (57%) intend to pratice in primary care setting
50 (45%) intend to practice in a medically underserved community (MUC)
26% (6/23) of participants who indicated "No, I don't want to pursue a health caeer" in the pre-survey changed their intent to "Yes" in the post-survey
Centers implementing the program:
Healthcare Career Camp
Each summer following the Healthcare Career Club (HCC), HCC members who have a desire to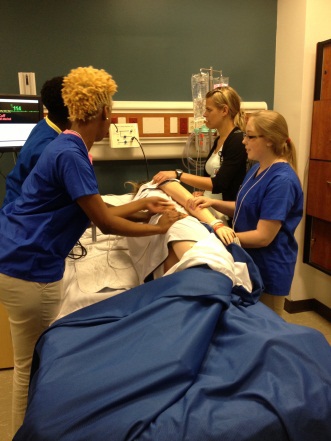 enter into a health care profession participate in a week long Healthcare Career Camp sponsored by ECMO AHEC. The camp:
Exposed students to various manikins in a SimLab, such as SimMan 3G, SimMom (students learned to deliver a baby), SimKid
Trained students on how to measure vital signs such as: blood pressure, temperature, oxygen levels, respirations, pulse
Developed student awareness of pregnancy by utilizing an empathy belly (weighted artificial belly that simulated pregnancy)
Trained students on nasogastric (NG) tube insertion and suctioning
Certified students in Red Cross CPR/AED for the Professional Rescuer and Healthcare Provider
Implemented the Countdown to College program, which includes college application assistance, financial aid and scholarship resources, college success strategies, and building a network of resources for college.
Created student awareness of health literacy from the point of view of both patients and providers
Developed student leadership and team building skills based on the 7 Habits of Highly Effective Teens
Introduced the 6 Most Important Decisions You'll Ever Make for teens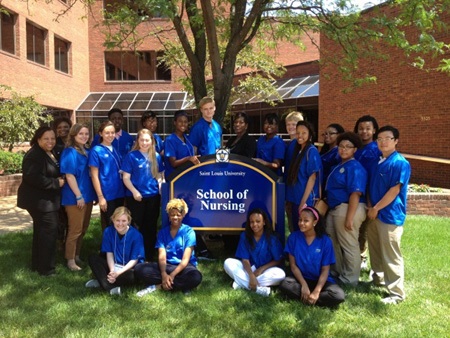 Following the camp, all students participated in two-week paid field internships in the St. Louis area: SSM Health Care (St. Mary's, Cardinal Glennon, and DePaul), Christian Northeast Hospital, BJC Healthcare and Grace Hill Health Centers.
Results of the program:
97% reported an increase in their knowledge of health careers
105 (84%) declared an intention to pursue a health career
63 (57%) intend to pratice in primary care setting
50 (45%) intend to practice in a medically underserved community (MUC)
26% (6/23) of participants who indicated "No, I don't want to pursue a health career" in the pre-survey changed their intent to "Yes" in the post-survey
Centers implementing the program: